Here are the finished zombies from the WIP-posts I did earlier. Not quite happy with how the picture turned out, I kept fiddling around with the settings on the camera.

From left to right, we have three C18 zombies (sculpted by Kev Adams) and then an Iron Claw skeleton guard (Bob Olley's range which was later incorporated in Citadel's regular catalogue). I really like the rat nibbling away on his leg, but apart from that I think the model is quite atrocious.
The model third from the left is a bit mangled, and also missing the blade from his weapon. Whenever I get my hands on a small hand drill, I'll fix him a new one. The left most model is actually a duplicate of one I allready painted. His arm is a bit bent, which works to his advantage making him a bit different from his brother. The armoured zombie with the shield, will serve as a "leader" type of zombie lieutenant.
Of all the zombies I've painted so far, these are probably the roughest looking lot. I think I rushed through it a bit, being slightly stressed out by timing how long painting them would take. It doesn't matter much, they look fine in a group. Here's a shot of all the lads I've done so far. 14 of them, and counting.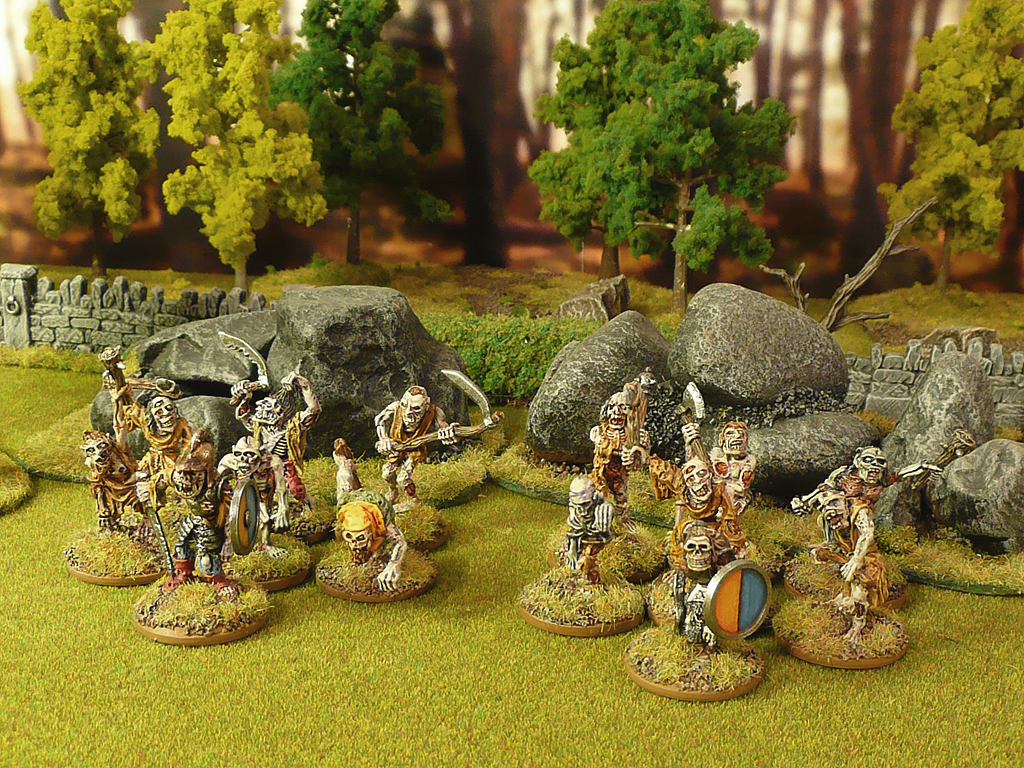 Yup, them pesky heroes have another thing coming – that's for sure! Once these guys get to Stillburg, they'll be joined by another seven zombies and a necromancer.

Coming up next, this weeks acquisitions. Quite a bunch, actually. Quiiite a bunch. A revised painting progress tally tomorrow! In the painting queue are aforementioned necromancer and the seven zombies. I'll start with the necromancer as I've been good and finished 9 zombies so far this year. Yay me!