Among the more exotic denizens of the area around Stillburg we find these members of the cult of Elisiam, the man faced lion-god.

The miniatures are mostly from Foundry's range of Spartans, the manticore is the MM44 Marauder model released in 1990 or so. Most likely it was scuplted by Trish Morrison. The models are all painted by elysium64/Simon from LAF/FUUK. I got these and a bunch of other nicely painted miniatures for a pittance. I've merely re-based them (well, not the manticore yet) to fit with the rest of my collection.
Many months ago, this particular group of cultists set out from their enclave outside of Thessos in The Border Princes. Travelling accross The Vaults, they have now ended up in Averland in the Empire and are scouring the Riding for a legendary relic of Elisiam's. While not exactly chaos cultists, their practice of blood sacrifice and use of the colour red often lead to them being shunned as followers of Khorne. They hold little regard for outsiders and will not hesitate to battle anyone opposing their religious conviction.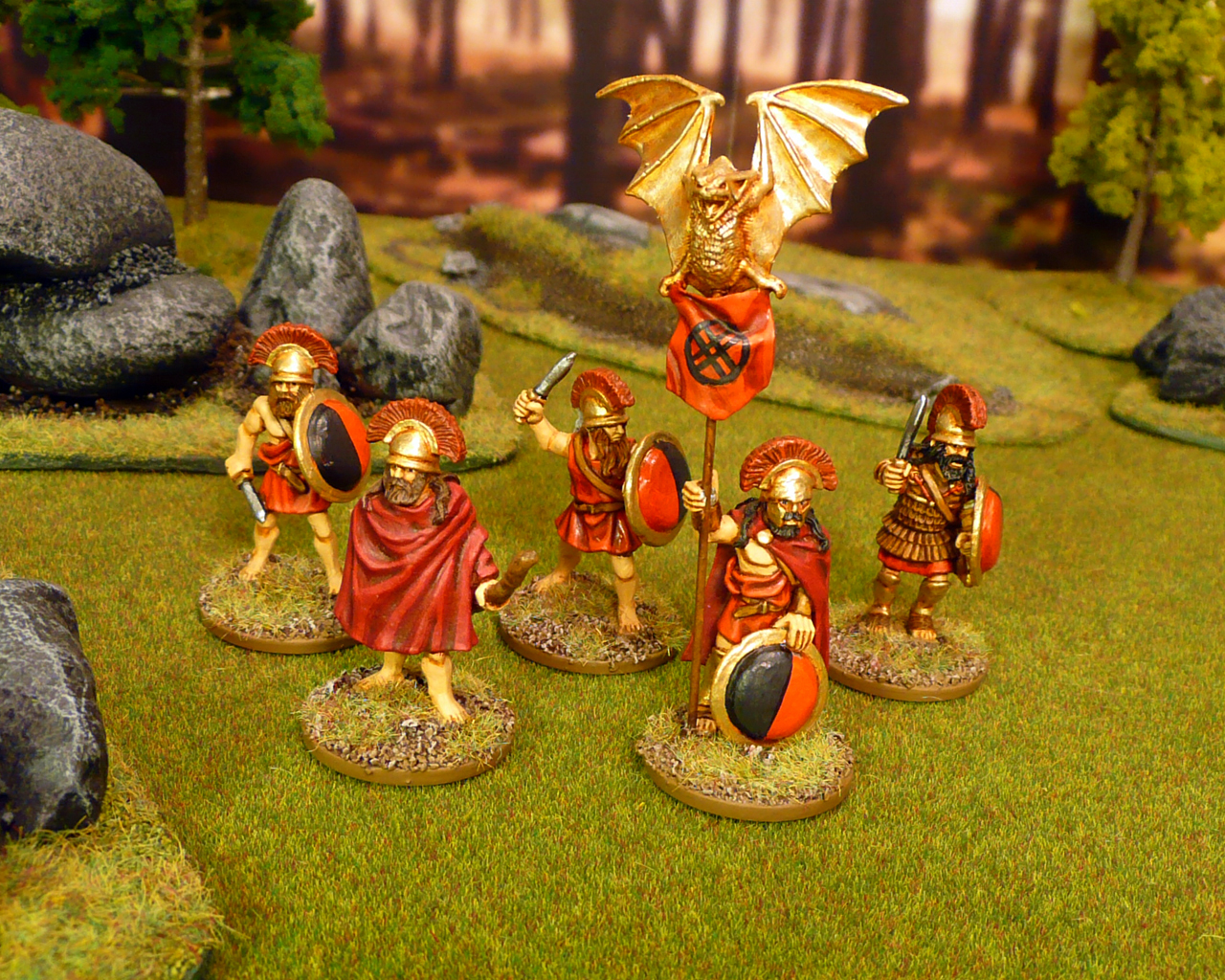 The warband is lead by Timaios, armed with a bow. He's accompanied by his trusted fighting men Archelaos, Endymion and Petros as well as the standard bearer Akakios.
Phrixos is the priest shaman of the group and by his side we find his young apprentice Miltiades.
Finally, the manticore Usuthu bound to protecting Delia the Temptress. In return, she enthralls men for Usuthu to feed on.
I made the following warband list to use them with Song of Blades and Heroes.
Cult of Elisiam – 328 pts
Timaios, Q3, C3. Leader, Shooter: Medium. 68 pts
Phrixos, Q3, C1. Magic-User. 40 pts
Miltiades, Q4, C2. 15 pts
Akakios, Q3, C3. Standard Bearer. 30 pts
Archelaos, Q3, C3. 30 pts
Endymion, Q3, C3. 30 pts
Petros, Q3, C3. 30 pts
Delia the Temptress, Q3, C1. Distract. 34 pts
Usuthu, Q4, C4. Big, Flying, Poison, Protect (Delia). 51 pts.
Yup that's about it… my first tits-out miniature and all. Coming up next, a something small and vicious for the 24th. Stay tuned!
Edit: Oh, almost forgot. Random silly names provided by Seventh Sanctum and Behind the Name.