One of my collecting bugs is the Regiments of Renown range Citadel released in the 80s. 28 sets of different miniatures were released, in different waves. I think they're great, though I do know most people shun the early ones as the troopers are all identical. Not a problem for me, as the main reason I'm collecting them is to have pick up and play warbands for SBH. Having identical troopers with identical stats help new players not mix things up. As there's no book keeping in Song of Blades and Heroes, there's no need to have unique models unless the stats differ.
The first Regiment of Renown ever released is Bugman's Dwarf Rangers. Great models, I must say! I haven't been able to determine who sculpted them, but there's a definite Perry Twins air to the chaps. Due to a severe lack of hobby time (and motivation for the minis) I had them sent off to Arjen "Pil" Pilon, who did a very good comission job on them for me (so I did NOT paint these myself). I asked to do the bases though, to keep them coherent with my existing collection.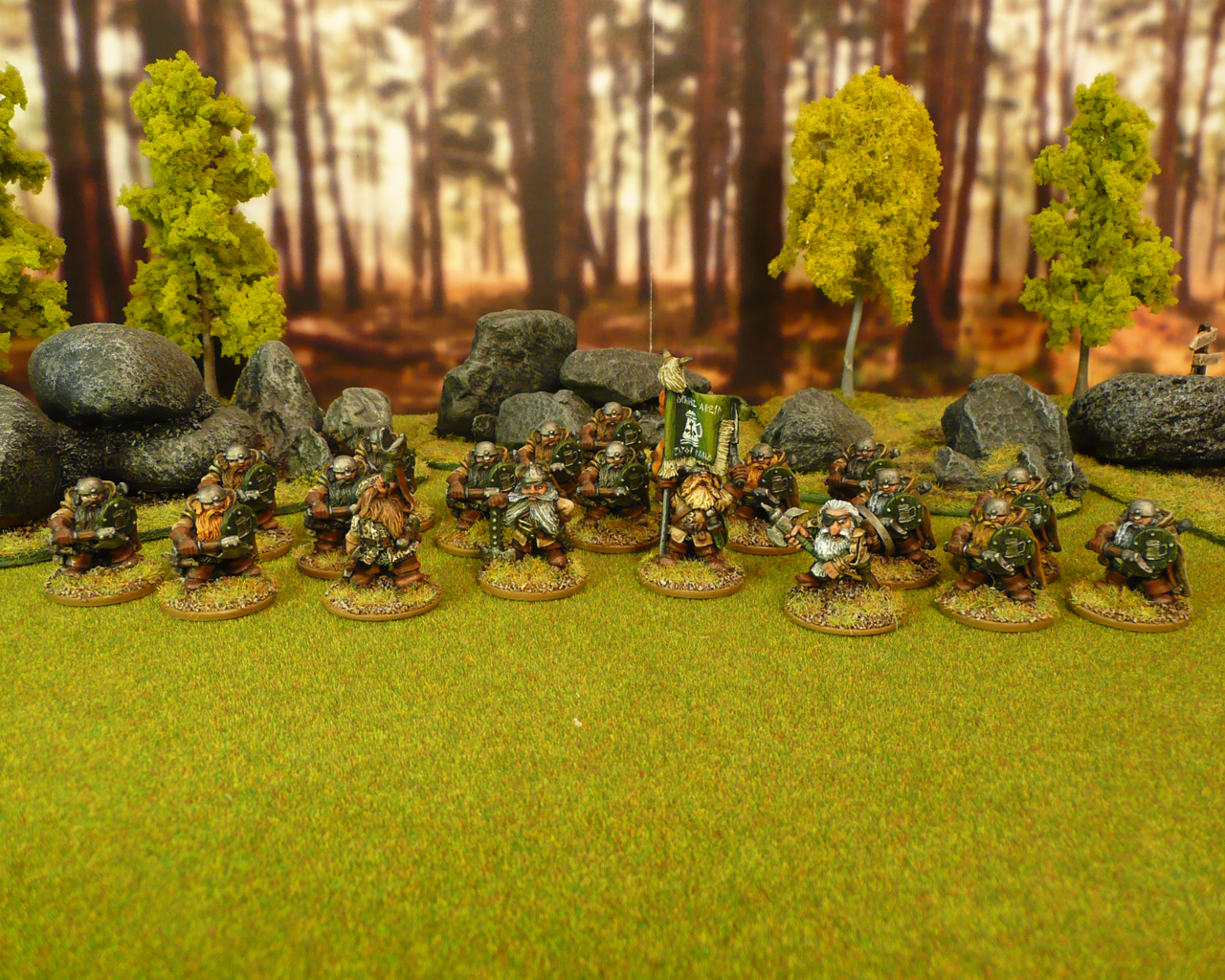 Unfortunately, this is not a complete set. I have not been able to get the original pre-slotta musician separately, and the champion from that set goes for silly money on eBay. Thus, I settled for less (not really, as the minis are great) and got the second edition Bugman's musician and champ. Job's a good 'un!
A trooper, the 2nd edition musician and the first incarnation of Joseph Bugman!
Another trooper, the standard bearer and the 2nd edition Jorj Ruddle. I'm sure there's a pun in there but I can't figure it out for the life of me!
I must say, I'm really impressed with the quality of the paint jobs. Especially considering the low price and quick turnaround time. Hat's off to you, mr Pilon! Talk about polishing turds here! I wasn't very keen on the models at all, until I had seen them painted up!
With 16 troopers painted and 4 command models, I have more than I can ever need for Song of Blades. Here's the 500 point warband list I'm planning on using with some of these chaps.
Bugman's Dwarf Rangers – 498 points
1 x Joseph Bugman – Quality 3+, Combat 4. Leader, Shooter: Medium, Short Move. (72 pts)
1 x Jorj Ruddle – Quality 3+, Combat 4. Hero, Shooter: Medium, Short Move. (72 pts)
1 x Dwarf Musician – Quality 3+, Combat 3. Champion, Short Move. (42 pts)
1 x Dwarf Standard Bearer – Quality 3+, Combat 3. Short Move, Standard Bearer. (24 pts)
9 x Dwarf Warrior – Quality 3+, Combat 3. Shooter: Medium, Short Move. (32 pts)
They all have crossbows latched to their backs, hence the Medium Shooter skill. I wanted them to have the ranger characteristics reflected in their stats, and didn't really feel like giving them all Forester. The musician was a bit of a challenge too, until I remembered the Champion skill from Song of Deeds. The standard bearer and the musician don't have Shooter, as they're too busy waving flags and tooting horns to be bothered with the shooty stuff.
Let's hope I'll be able to arrange a game for them soon. I had the foresight to ship another regiment with these guys, and have them painted and done up too. Next time, Mengil Manhide's dark elf company!