I've been a bit busy with stuff not pertaining to this geek blog of mine, but here's a little morsel and a hint of things to come.
Recently, I've grown weary of the plastic D&D Miniatures figs. I still have a big collection saved for Warhammer Quest, and I think the minis fit great for board games. However, real miniature games require real miniatures. =) Thus, I've started a small and purposeful collection of old Citadel metal miniatures with which my cousin Fredrik and I can play RPG-like campaigns.
First up, are the Songs of Stillburg. The people of the small town Stillburg have long led very uneventful lives. Recently, this has changed. Livestock have been found in the mornings, mutilated and torn asunder. At first people blamed the wolves in the region, and wanted to organize a hunt. However, when a full pack of wolves was found torn to pieces the towns-folk started getting scared. Nobody talked about organizing any hunts after that. Instead, fortifications were made on the town borders and some mercenaries were hired to bolster the town militia.
Among these mercenaries, we find Raab the Barbarian and his old friend and partner Aldor Berlepsch. Unfortunately, I haven't been able to paint up Aldor yet as he's still en route in the post – but here's a picture of Raab and a short bio. I'm making similar bios for all characters, to promote certain role playing in game and prevent power gaming where each mini is only viewed as expendable resources.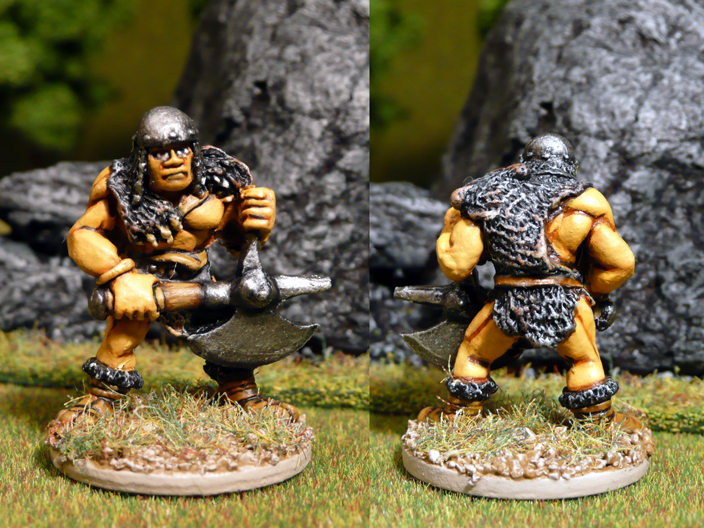 Raab – Human Barbarian. Quality 4+, Combat 4. Fearless, Berserk.
Professional sword for hire. Long time friend and companion of Aldor Berlepsch. Not the brightest, but fiercly loyal to Aldor and will protect him at any cost.
Finally, I have one more recently painted mini to share. It's some military type guy from EM4 Miniatures, and his first assignment is as an android in Fredrik's warband in Mutants & Death Ray Guns.

As usual, click for a high res version.
Coming up next; whatever pops in the mail box first. I'm waiting for a hefty batch of metal skeletons, also the mayor of Stillburg (Phoncible Bernadotte) and three city militia as well as the aforementioned Aldor Berlepsch. I'm still to find suitable minis for Brother Wendel (a monk from the local priory), Duncan Sandels (member of the priory's knight templar order) and a few zombies.