So, a new mile stone hit in the Stillburg project! Two of three zombies are finished, and I've painted a new type of mini for the first time.
I'm pretty content with how these turned out. I've been trying to give them the "resurrected corpse" look rather than the "infected" type zombie look. Hence the lack of gore splashes. For that, I recommend Paul's blog Sho3box.
Here's a shot of the front and backs: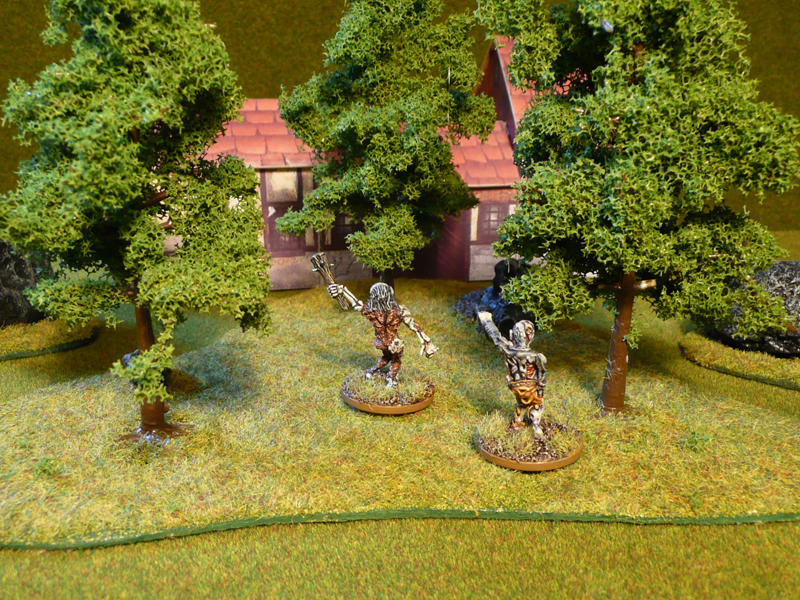 My biggest gripe is that the skin colour is too close to the shirt of the unarmed zombie to the right. It doesn't look exactly similar in real life, but very close. In photos, there's no difference. I have one more zombie to paint for Stillburg as it is right now and I'll try a different approach to the skin. On these I painted the white base coat with Rotting Flesh, which was then washed with a purpler wash and then a thinned out black wash. Highlights on that were plain Rotting Flesh in thin layers, with a touch of bleached bone at the end. On my next zombie, I'll do a regular human flesh base coat but highlighting it with thinned Rotting Flesh.
Here's a final close-up of the two chaps. They want huggies!

So, let's do a tally of where I'm at with painting the first scenario for Stillburg. Of the undead, I have 9 of 14 painted! One zombie and four more skeletons to go. Not too bad! The adventurers are worse off though. Only 1 of 8 are painted! In total, I've got 12 minis to go – with only a month left before the planned game. That's about 3 minis a week… Do I live up to that rate? In the last 6 weeks, I've painted 15 minis. I have 5 weeks to go. If I keep that tempo up, I'll have 12,5 minis painted by vacation time. There are less weddings, birthdays and funerals coming up – but on the other hand, our garden recently exploded into a mess of weedy hell and it's my job to take care of that.